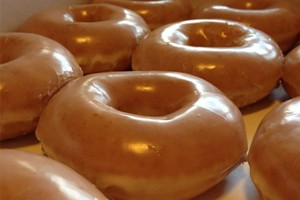 Who does not love donuts? Or a better question yet, who does not love Krispy Kreme? This American company has been making magic since 1937 spearheaded by founder Vernon Rudolph. Aside from doughnuts of various different flavors, Krispy Kreme is also selling baked goods, soft drinks, hot beverages, sandwiches, frozen beverages, and iced beverages.
Related Other Restaurant Menu and Reviews Applebee's Menu
Krispy Kreme is also famous for their tag line, "Hot Doughnuts Now". This is most probably because of the assurance to their customers that they are selling only the freshly baked doughnuts. This has been the main priority of the company since their inception.

Krispy Kreme's classic assorted doughnuts include the following flavors: New York Cheescake, Caramel Kreme Crunch, Sugar-coated, Powdered Strawberry Filled, Mango Kreme Cake, Glazed Chocolate Cake, Kreme Brulee, Chocolate Iced with Sprinkles, Chocolate Iced Custard Filled, Salted Caramel, and the Chocolate Iced Kreme Filled. All these doughnuts are priced at Php45.
Their featured assorted doughnuts include the PETER PAN or the Peanut Butter & Kreme, the KIT-KAT, and the Chocolate Kreme Cake made with OREO.
Krispy Kreme is also serving hot beverages available in three sizes: Small, Medium, and Large. Their hot beverages include their Signature Coffee, Kaffee Kreme, Mocha, Cappuccino, Latte, Americano, Caramel Latte, Mocha con Oreo, and Hot Chocolate. For bulk orders, they sell the Brew Box which contains 12 cups of Signature Coffee, and the Brew Box Jr., which contains 6 cups of signature coffee.
Their iced beverages are available in two sizes: Medium and Large. The drinks are Chocolate Chocolate, Caramel Latte, Mocha Latte, Mango Kreme, Original Kreme, Chocolate Cookie with Oreo, Strawberry Kreme, Wildberry Kreme, Coffee Jelly, Blueberry Cheesecake, Black Forest, and Tiramisu.
Krispy Kreme's Baked Creations include Pull Aparts with three flavors: Bacon & Cheese, Four Cheese, and Sausage & Cheese. Their Kruffins include the flavors Mango, Double Chocolate Chip, and the Classic Kruffin. Lastly, Krispy Kreme also sells puff pastries with flavors Cheese Puff and Kouign Amman.
Website of Krispy Kreme Doughnuts restaurant