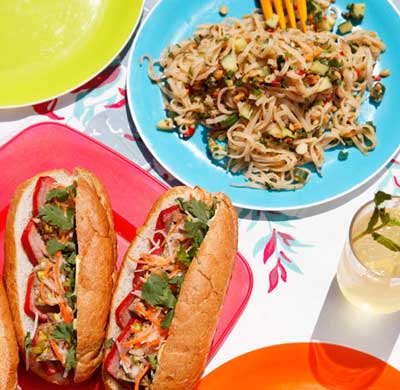 Scrumptious Ideas for an Outdoor Picnic
Everybody loves a picnic. A lazy afternoon spent under the shadow of a tree with the sunlight filtering through the leaves, a refreshing breeze lifting the edges of your picnic mat, a book in hand. Perhaps you watch your kids playing a couple of yards away, throwing Frisbees at each other.
And of course, let's not forget what we all love about picnics: the food. The small, delicious bites we eat with paper plates and our fingers; the refreshing iced teas we pour into plastic cups. Going on a picnic soon? Here are some picnics menus ideas to help fill that basket with all things scrumptious.
Related Food on the Table: Weekly Food Menus
Picnics Menus Ideas for Your Next Outdoor Party
1. Finger sandwiches – Tired of the usual tuna or chicken sandwiches? Why don't you try cucumber or tomato sandwiches? How about some turkey or roast beef? Check out online picnics menus to get more inspiring ideas.
2. Tarts and Squares – Bringing a whole pie might be difficult, but who says you can't have great dessert at a picnic? Tarts and squares are small enough to fit into your basket. You can also look for miniature cakes or donuts.
3. Candies – Marshmallows, gummy bears, lemon drops, chocolates – all these things remind us of our childhood. And picnics are always great for childhood reminisces!
4. Iced teas – You don't have to drink juice from boxes or tetra packs if you don't want to. You can prepare lemonade or iced tea (even sangria for adults) and place them inside water jugs. Keep the jugs in the chiller until you're ready to leave for the picnic.
5. Paper weights – When the wind picks up at a picnic, we all know what happens: plates of food start flying about. Use smooth rocks or sticks as paperweights.
These are just some ideas for picnics menus. Feel free to browse around for more interesting tips. Have a great picnic!
Visit Related Topic