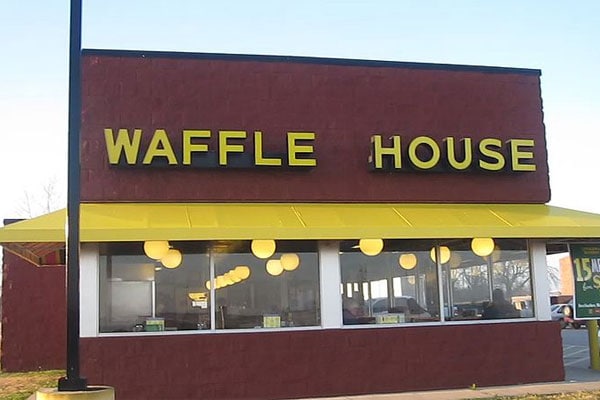 Waffle House, Inc. is an American restaurant chain founded by Joe Rogers Sr. and Tom Forkner in 1955. Their first branch opened at 2719 East College Avenue on Labor Day weekend of 1955 in Avondale Estates, Georgia.

As of the moment, they already have more than 2000 location opened in over 25 states in the US. Most of them are located in the South, where the restaurant is really celebrated. Their headquarters is located at the Gwinnett County in Georgia.
Rogers started as a cook in 1947 at the Toddle House in Connecticut. He became a regional manager two years after and then he moved to Atlanta where he met Tom Forkner. Tom, at the time, was buying a house from Rogers in Avondale Estates.
His view on creating the restaurant was to mix fast food and table service. The name of Waffle House came from the fact that waffles are really the most profitable food items in their menu when they started. Having waffles as their main food also meant that they are really a dine-in restaurant but later on made a confusion that they only serve breakfast.
Related Other Restaurant Menu and Reviews A&W Menu Food Review
In 1960, Waffle House opened its fourth branch. This is also the time when they started franchising. By the end of the 60s, they were able to open 27 branches in total.
Their menu is divided mainly on breakfast food items. Their first division is Steak and Eggs. This include Ribeye & Eggs, T-bone & Eggs, Steak & Eggs, Country Ham & Eggs, Papa Joe's Pork Chops & Eggs, Papa Joe's Pork Chops & Eggs, and Grilled Chicken & Eggs.
Of course, Waffle House won't be complete without waffles. They serve them on either single or double orders. They also offer flavored waffles including Chocolate Chips, Peanut Butter, Blueberry or Strawberry.
They also sell Toddle House Omelets including Ham & Cheese, Fiesta, Cheesesteak, and Cheese. Aside from waffles, they also sell sandwiches and melts including Sausage Egg & Cheese and Bacon Egg & Cheese.
Website of Waffle House Restaurant