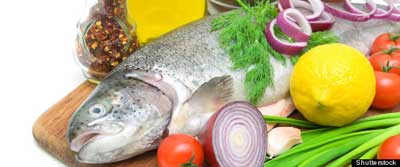 Keep Your Heart Happy and Healthy with This Great Menu!
Are you worried about your heart? Well, you should be. A big percentage of people today suffer from heart disease and other heart-related disorders.
You don't have to wait to get sick before you start taking measures to ensure you have a healthy heart. Plan a healthy heart menu now.
You are what you eat. It's amazing how true this old saying really is. What you put into your mouth becomes a part of you. So, if you keep on eating fatty, cholesterol-high food;
then you reap the consequences. That's why it's always important to eat healthy.Want a sample healthy heart menu to help point you in the right direction? Here's something to help you get started.
Related Christmas Dinner Menus
Healthy Heart Meal Plan
The key thing is to eliminate fatty, high-cholesterol and high-sodium food from your diet.
Breakfast:
1 cup cooked oatmeal (you can add cinnamon and some nuts if you want)
1 banana
1 cup skim milk
Lunch:
Grilled or baked salmon
1 piece whole-wheat toast
Vegetables
Snack:
1 cup yogurt
Dinner:
Grilled turkey burger (4 ounces) with a whole-grain bun
Salad with low-fat dressing
1 cup skim milk
Feel free to add and subtract to your healthy heart menu. Just remember to keep it healthy!
Visit Related Topic