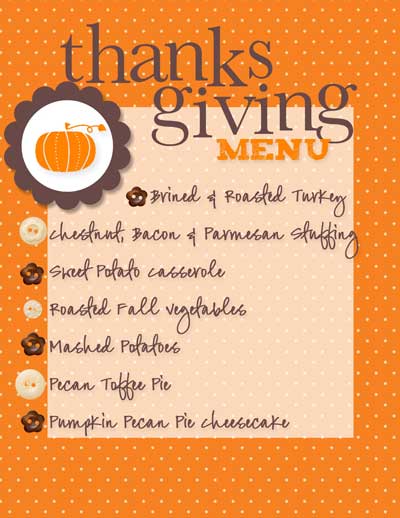 How to Create a Fantastic Thanksgiving Spread
Greetings, pilgrims, Thanksgiving is here once more! Yes, it's once again time to crank up your oven and bake the perfect turkey and pumpkin pie. Looking for tips on how to create a gastronomic spread everyone will thank you for?
Here's a menu that will surely make this Thanksgiving something everyone won't forget.Thanksgiving is my favorite holiday, next to Christmas.
It's a wonderful time to gather friends and family around a table to give thanks for the fast-dying year. Because Thanksgiving is really important to me, I really set aside time to prepare for it.
I spend about a week in advance thinking about the menu, decorations and guest list. The two days before Thanksgiving I reserve for sprucing up the house and cooking up a storm.
Looking for inspiration? Check out my menu last year to get your ideas flowing:
Related Healthy Eating: Free Diet Menus
See What Goodies You Can Cook Up This Thanksgiving
Appetizers
– Nuts (almonds, cashews, pistachios)
– Grapes
– Gourmet cheese and crackers
– Potato chips
Entrees
– Roasted Turkey (baked with butter, herbs, garlic and apples)
– Stuffing (with sausages, celery, onions, apples and carrots)
– Pot Roast
– Pasta with Pesto Sauce
Sidings
– Mashed Potatoes
– Cranberry Sauce
Dessert
– Pumpkin Pie
– Red Velvet Cake
Beverages
– Wine
– Soda
– Juice
Feel free to alter this Thanksgiving Menu to suit your taste. Happy holidays, pilgrims!
Visit Related Topic