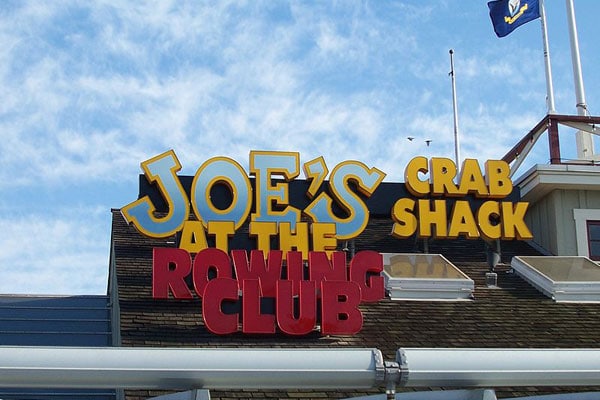 Image source: wikipedia.org
Joe's Crab Shack is a restaurant chain that originated in the United States of America. They specialize primarily on beach-inspired seafood casual dining. Joe's Crab Shack is owned by a NASDAQ company, Ignite Restaurant Group. Currently, Joe's Crab Shack already has locations all over the United States. They primarily serve American cuisine and seafood dishes. Inside the restaurant is also a gift shop where customers could buy shirts advertising the restaurant itself.
Joe's Crab Shack came originally in Houston, Texas in 1991. Landry's Restaurants then purchases the first ever branch of Joe's Crab Shack and it grew to build more locations in Houston and another one in Dallas.
The feels inside Joe's Crab Shack is mainly laid-back. Most branches are located in beaches with large patio seats with a view of the sea. A lot of the branches also have a playground and arcade games inside. As of the first quarter of 2014, Joe's Crab Shack already has 138 branches in 35 states. Most of them are located in Texas with 28 stores inside.
Related Other Restaurant Menu and Reviews Hard Rock Cafe Menu
Joe's Crab Shack menu is divided into Starters, Salads, Fish, Shore to Please, Out of Water, Big Platters, Steampots, Share A Steampot, Spice Up the Classic, On the Bun, Shrimp & Lots of It, Sides, Attack Your Thirst, and Desserts.
Their starters are primarily appetizers which include Crab Nachos, Garlicky Mussels, Clam Strips, Mozzarella Sticks, Joe's Stuffers and a lot more. Their salads include Caesar, Chicken Fried Salad, and Crab Cake Chipotle Caesar. Their fish meals include Redfish Orleans, Maui, Mahi, Redfish Pontchartrain, and a lot more.
Moreover, their Shore to Please includes Pasta-laya, Shrimp Pasta Alfredo, Skillet Paella, and a lot more. Their Out of Water includes Whiskey Smoked Ribs, Cheesy Chicken, Homestyle Chicken Tenders and a lot more. Their Big Platters include New Third Coast Platter, Big Shrimp Platter, Seaside Platter, and a lot more.
Their desserts to end, include Campfire S'mores, Sea Turtle Sundae, and Crabby Apple Crumble.
Website of Joe's Crab Shack restaurant