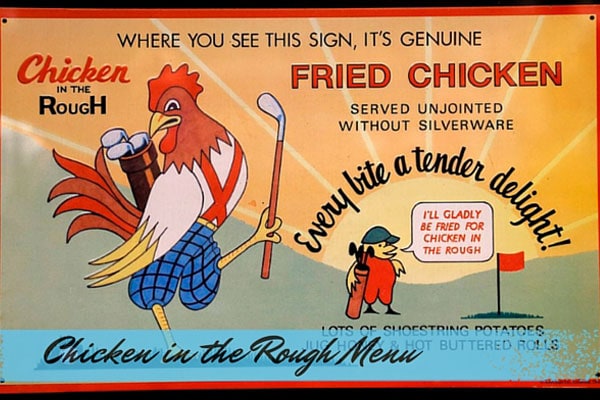 Chicken in the Rough, which was formerly known as Beverly's Chicken in the Rough, is a famous and one of the earliest restaurant chains and franchises in the United States. Their primary selling point is their famous fried chicken.
Related Other Restaurant with famous chicken dishes World Chicken Favorite
It was founded by Oklahoma City natives Rubye Osborne and Beverly Osborne in 1936. The birth of their half-fried chicken dish also sparked the start of the restaurant chain. This dish is also sometimes referred to as Chicken in the Rough and primarily consisted of half friend chicken, a biscuit with honey, and shoestring potatoes.
The logo of Chicken in the Rough comprises of a cigar-smoking rooster and carries a golf club. They also used the Chicken's Caddie logo, which comprises of a golf caddy personified by a chick with the tagline, "I'll gladly be fried for Chicken in the Rough".
The chain's name originated from an unexpected accident that founders Rubye and Beverly had on a 1936 road trip to California. Beverly dropped a basket of chicken when Rubye accidentally hit a bump on the road while on the way to their destination. Rubye then mentioned "This is reall chicken in the rough" When this happened, they headed back to Oklahoma and decided to just cancel the trip.
Chicken in the Rough is actually the first franchised chain in the United States. On their first year of operation, they already had branches in Oklahoma, Missouri, Arizona, and Illinois. In the 1950's, it already had seven branches only in Oklahoma and over 300 franchise location in Hawaii and South Africa.
Chicken in the Rough serves Soups, Starters, Salads, Burgers and Sandwiches, Build-Your-Own-Burgers, Chicken Entrees, Chicken in the Roush, Barbeque Ribs, Steak and Chops, and Steak and Seafood Entrees.
In 1974, Randy Shaw, the husband of Beverly, purchased Chicken in the Rough and continued its success.
Website of Chicken in the Rough restaurant