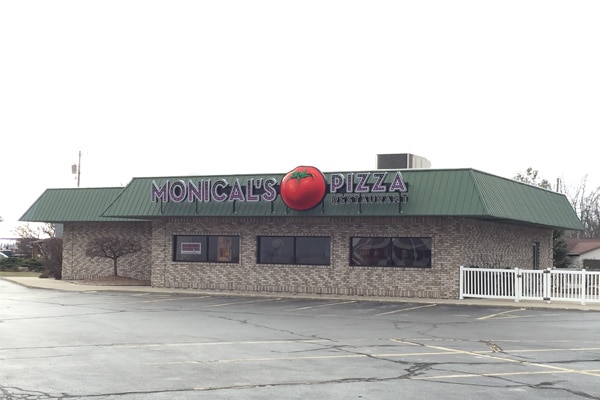 Image source: monicals.com
Monical's Pizza is a regional pizza chain from America founded by the Monical family in 1959. The chain was founded in Tolono, Illinois but they are currently headquartered in Bradley, Illinois. As of today, they already have 60 branches in Illinois, Indiana, and Wisconsin.

Half of these location are owned by the corporation itself, but hald are franchised by third-party enthusiasts. Monical's is known for their thin crust pizza topped with garlic salt and basil. What their customers love about their pizza is that it can be dipped in their special sweet and tart French dressing.
Their pizza is also sliced into small squares rather than the usual wedge shapes. Monical's is one of the first pizza chains to actually do this pizza cut.
For starters, Monical's sell breadsticks, hot wings, garlic bread, mozzarella sticks, and garlic cheese bread. They also have salads which include garden fresh salad, taco salad, chef salad, and fajita chicken salad.
Their pastas include lasagna, taco mac, meatballs, spaghetti, and chicken Alfredo. Their sandwiches include hot Sicilian, Italian beef, ham and cheese sub, classic sub, turkey sub, barbeque chicken, meatball sub, and fajita chicken wrap.
Related Other Restaurant Menu and Reviews Popeyes Louisiana Kitchen Menu
For pizzas, they sell 12" thin crust oven ready pizza, and several build your own pizzas including, thin, pan, small thin, small pan, 10 ½" gluten free, medium thin, medium pan, large thin, and large pan where you can have a choice of 1, 2, or 3 toppings each.
Aside from customizable pizzas, they have specialty and combos including the delight, Italian special, veggie, deluxe, meat eater's special, Hawaiian, barbeque chicken, cheese free combo, and the Purple Rider special.
They also have a section in their menu that they call "Pleasers". These include the Family Please, Pleaser for Two, and Individual Pleaser which mainly has a pizza, salad, and a drink into one order.
Website of Monical's Pizza Restaurant