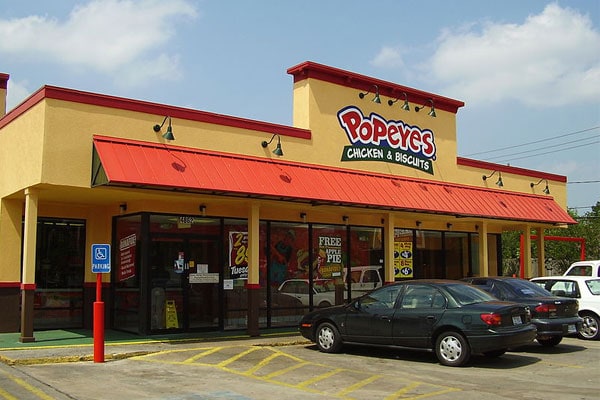 Image source: wikipedia.org
Popeye's Louisiana Kitchen is a chain of fried chicken restaurants from America. They are founded in New Orleans, Louisiana in 1972. They are also called with other names like Popeye's Famous Fried Chicken & Biscuits, Popeye's Chicken & Biscuits, or just Popeye's.

They are currently the second largest chicken restaurant if measured by number of branches. As of the moment, they already have more than 2,500 branches in not less than 40 states, together with District of Columbia, Puerto Rico, and over 30 countries worldwide.
These countries include Trinidad, Vietnam, Suriname, South Korea, Singapore, Saudi Arabia, Qatar, Peru, Panama, Mexico, Malaysia, Kuwait, Jordan, Jamaica, Iraq, Indonesia, Hong Kong, Honduras, Guyana, Germany, Republic of Georgia, Northern Cyprus, Costa Rica, China, Canada, Bahrain and Turkey.
30 among these branches are owned by the company itself and the others are already franchised by individuals.
Related Other Restaurant Menu and Reviews Papa Gino's Menu
The first Popeye's was opened in Arabi, Louisiana when its name was still Popeye's Mighty Good Fried Chicken. The owner during that time was Al Copeland. Their traditional fried chicken with a mild taste did not meet the crowd's taste that's why they devised a newer and spicier recipe to cope up with the flavor-seeking New Orleanians.
Soon enough, they already achieved the perfect chicken recipe and crowd started loving the restaurant. In 1976, they began franchising in Baton Rouge, Louisiana and then ten years later, they already opened over 500 branches in the US.
Many speculations were brought up that the name of the restaurant came from the cartoon character, Popeye the Sailorman. But according to the owners, it was named after the fictional detective Jimmy "Popeye" Doyle in the movie The French Connection.
They offer mild and spicy flavors of fried chicken with sides including Red Beans and Rice, mashed potatoes with Cajun-style gravy, Cajun fries, and Cajun rice. They also offer entrée including Po' Boy sandwiches and chicken-and-sausage jambalaya.
Website of Popeyes Louisiana Kitchen restaurant
Popeyes Louisiana Kitchen menu
Save
Save
Save
Save
Save
Save