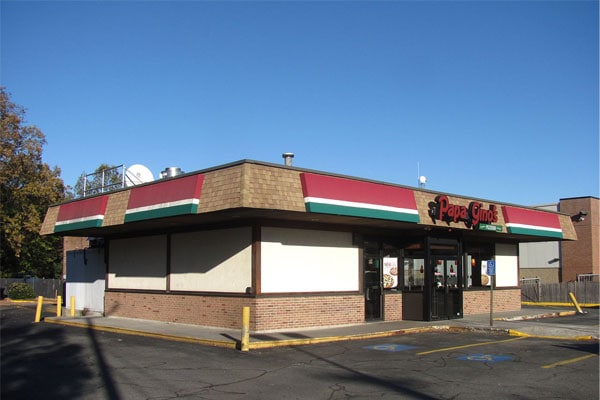 Image source: wikipedia.org
Papa Gino's, Inc. is a restaurant chain founded by Helen and Michael Valerio in 1961. It started when the two started a small diner they called Piece O' Pizza back in East Boston, Massachusetts. In 1968, they changed the name to Papa Gino's and started increasing their branch locations. As of today, they already have over 150 branches all around Maine, Connecticut, Massachusetts, New Hampshire, and Rhode Island.

Papa Gino's particularly serve American style pizza, subs, pasta, salads, and appetizers. Their menu has changed through the years but they retain certain flavors that their customers always crave for.
For their appetizers and snacks, they serve cinnamon sticks, mozzarella sticks, cheese breadsticks, and garlic bread, garlic bread with cheese, French fries, buffalo chicken tenders, and chicken tenders.
For their salads, they sell buffalo chicken salad, crispy chicken salad, chicken, bacon, and cheddar salad, garden salad, and Caesar salad.
They serve the usual soft drinks and juices for their beverages.
Related Other Restaurant Menu and Reviews T.G.I. Friday's Menu Review
They have two famous pizza flavors, 3 Cheese Blend and Pizza by the Slice. Their other specialty pizzas include Super Veggie, Pepperoni, The Works, Meat Combo, Chicken and Roasted Peppers, and Chicken and Roasted Garlic.
To match their pizzas, Papa Gino's also serve a wide range of pastas. They include Spaghetti or Penne Marinara, Cheese Ravioli, Chicken Parmigiana Platter, Papa Platter Pasta Sampler, Chicken and Broccoli Alfredo, Penne Alfredo, and Pasta Trio Plate.
They also sell kids' meals including a slice of either cheese or pepperoni pizza, chicken tenders and fries, hotdog and fries, and spaghetti.
For those who don't feel like eating pizza, they also offer subs. Their hot subs include the following flavors like Steak and Cheese, Super Steak, Meatball Parmigiana, Chicken Parmigiana, and Hot Veggie Pocket.
Their cold subs and pockets on the other hand include flavors like Italian, Seafood, White Albacore Tuna, Turkey Breast, Turkey Club, Chicken Caesar Pocket, and Lobster Roll.
Website of Papa Gino's restaurant