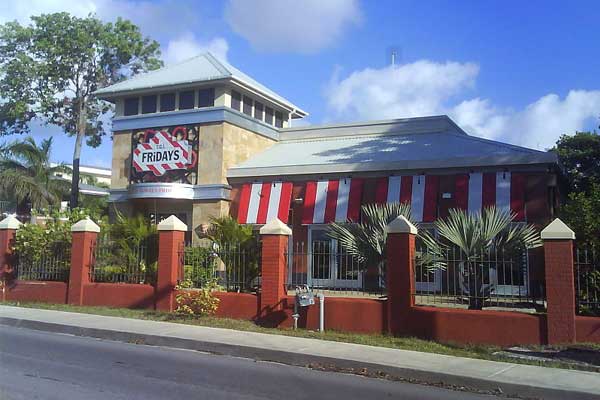 TGI Friday's is a casual dining restaurant from America. Its initial owner is Carlson Companies but it was later purchased by Sentinel Capital Partners and Tri-Artisan Capital Partners in 2014. Its name is actually from the expression, "Thank God It's Friday!" They are mainly known for their brass railings, red-striped canopies, antique decors, and Tiffany lamps.

The first TGI Friday's was opened in New York in 1965 by Alan Stillman. Growing up, Alan grew in a place where a lot of fashion models, secretaries, airline stewardesses, and young people reside in. During that time, he hoped that he would be able to meet women by opening a bar.
With $5,000 in his bank account and borrowing $5,000 from his mother, Alan bought the bar he occasionally goes to, The Good Tavern, located at the corner of 63rd Street and First Avenue. He named it TGI Friday's after the famous expression, "Thank God It's Friday" during his academic years at Bucknell University.
Their menu included appetizers, entrees, and desserts. Appetizers include traditional wings, Fridays Mozzarella, Fried Calamari, Boneless Buffalo Bites, Friday's Chili Ball Park Nachos, Beef Queso Dip, Jack Daniel's Sampler, Friday's Three for All, and their Seafood Platter.
Related Other Restaurant Menu and Reviews Waffle House Menu Review
Their salads include Calypso Calamari Salad, Shanghai Chicken Salad, Grilled Chicken Caesar Salad, Caesar Salad, and Chipotle Yucatan Chicken Salad.
They also offer food from their grill including Jack Daniel's Ribs and Shrimps, Jack Daniel's Salmon, Jack Daniel's Pork Chop, Jack Daniel's Pork Belly, Jack Daniel's Steak, Jack Daniel's Chicken, Jack Daniel's Chicken and Shrimp, and Jack Daniel's Ribs.
Moreover, they also offer meals including New York Strip, Texas Ribeye, Peppercorn New York Strip, Shrimp Mango Quesadilla, Chicken Quesadilla, Jack Daniel's Beef Brisket Quesadilla, Tortilla Crusted Fish Tacos, and Sizzlin' Fajita.
They also sell burgers including Texas Chili Cheeseburger, Cowboy Triple Meat Burger, and Jack Daniel's Burger. Some of their sandwiches include Chicken Club Sandwich, Pulled Pork Sliders, and Chicken Finger BLT.
Website of T.G.I Friday's Restaurant