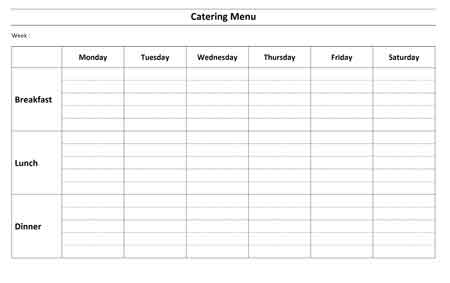 How To Have Your Restaurant Menu Designed
The menu is one of the most important factors that may lead to either the success or failure of a restaurant. Your menu will give your customer the first impression he has of your restaurant as well as the food and service you provide. If your menu is sloppy looking and disorganized customers will see your restaurant in the same way.
If your menu is too flashy, if the text font is too small or weird, your customers will have a difficult time ordering their food. That is why you need to design your menu very well. Ideally, you should hire a professional designer to do the job for you and a professional printer to reproduce your menu.
However, you can opt to do these things yourself if money is an issue. If you are not an expert in design programs such as Photoshop, there is an easier alternative to designing your menu from scratch. You can get numerous free Microsoft food menu templates online. All you need to do is visit the Microsoft Office Online website.
Related Questions to Ask in Creating Your Restaurant Menu Design
See How Easily You Can Design Your Own Menu
There, you will find over 40 different menu templates. These are templates for menus of many different sizes and restaurants of varying themes, so you are bound to find something that will be good for your restaurant. Once you have found a template you wish to use you need to download it onto your computer. Downloading is free, so you should have no problem with that.
Now that the template is in your computer you can open it using Microsoft Word. Then, you can proceed with editing the text and photographs in the template by putting in the information about your dishes and menu prices. If ever you find that you need to switch to another template, you can just download as many as you want.
While hiring or asking a professional designer to create your menu is always better, using pre-made menu templates is also a viable option if you are trying to save on money. Just make sure that you have a good internet connection and that you are good in using Microsoft Word.
Visit Related Topic