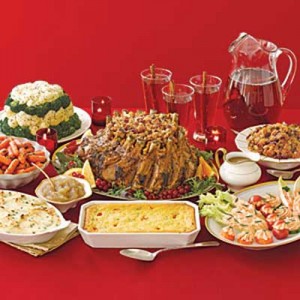 See How You Can Prepare a Feast This Christmas
Christmas is here again with its promise of good food, great company and cheer. One of my favorite things about Christmas is the food. Yes, those Christmas dinners with their inviting array of roast beef, ham, cheese, cakes, pudding, eggnog and much, much more.
Looking for Christmas Dinner Menus to inspire you this holiday season? Well, here's a sample menu that will have you wishing it were already Christmas.
Great Eats for Your Christmas Feast!
Related Thanksgiving Menu
Sample Christmas Dinner Menu
• Appetizers:
Grapes
Cheese Tray
Bruschetta
Olives and Mushrooms
strong>• Entrees
Roast Beef/ Lamb
Mashed Potatoes
Baked Fish
Couscous
• Dessert
Chocolate Pudding
Fruit Cake/ Tiramisu
• Beverages
Soda/ Juice
Eggnog
Hot Chocolate
Make sure that when you're planning a Christmas feast, you start cooking a couple of days in advance. It would also be good to employ the help of some Christmas elves to lighten your load. In the end, enjoy! Christmas is all about having fun and spending time with people you love, so don't stress out!
Hopefully, this sample menu helps get those creative juices flowing. Have a very merry (and delicious) Christmas, one and all!
Visit Related Topic