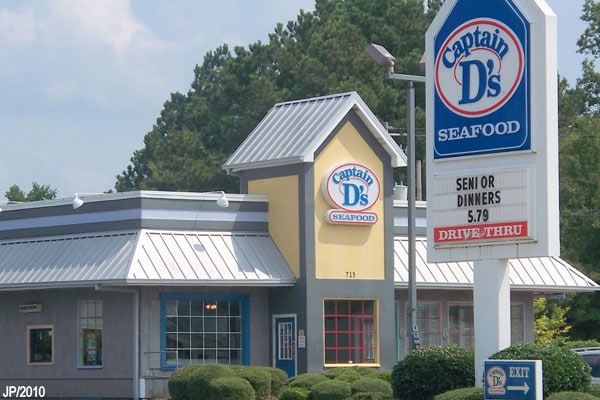 image source: wikimidia.org
Captain D's is a fast-casual restaurant based in Donelson, Tennessee, USA. They specialize in fish and chips and generally seafood. They currently introduced grilled goodies in their menu. The first branch of Captain D's opened in Tennessee in 1969 and started off as Mr. D's.
Despite their long-time competitor Long John Silver's, Captain D was awarded with the MenuMasters Award in 2007 by Nation's Restaurant as the Best Menu Revamp. The chain suffered from drawbacks with their sales but turned around easily with over 18 quarters of constant sales increase.
This growth made existing franchisees get more interest on their branches and invited new ones to come in. In 2010, Captain D's was purchased by Sun Capital Partners.
Currently, Captain D's is offering a Full Meal Deal priced at $4.99 with option including 12-pc Butterfly Shrimp, Southern-Style Fish Tenders, and Fish & Homestyle Shrimp.
Related Other Restaurant Menu and Reviews Carrabba's Italian Grill Menu
Captain D's fish menu includes either Batter Dipped Fish or Country-style Fish. They also sell bundles of Catfish Feast and Fish & Fries. For their seafood menu, Captain D's sell a Deluxe Seafood Platter and a Supreme Sampler.
Grilled seafood is also available at Captain D's. A few items are Surf and Turf, Lemmon Pepper White Fish, Wild Alaskan Salmon, Blackened Tilapia, and Shrimp Skewers. For bulk orders, Captain D's also sell family meals including a Seafood Feast, 10-pc Fish Value Pack, and a 14-pc Chicken Value Pack.
For dessert, they offer cheesecake, chocolate cake, and funnel cake stix. Other favorites on their menu include Mozzarella Sticks, Jalapeno Poppers, Crispy Chicken Salad, and Salad with Shrimp Skewer.
Other Captain D's Resources
Captain D's Official Menu
Captain D's on Wikipedia
Captain D's on Facebook
Captain D's on Instagram
Captain D's on Twitter
Captain D's on Youtube