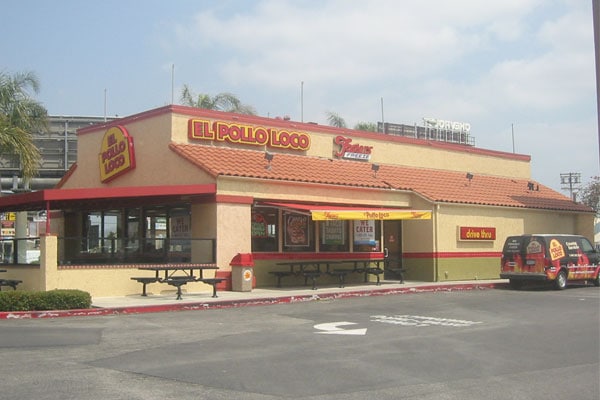 Image source: wikimedia.org
El Pollo Loco is a restaurant that started in the United States which serves Mexican-style chicken. They offer take-out, dine-in, and drive-thru in some branches. El Pollo Loco is based in California with over 400 branches in the United States alone. The name El Pollo Loco is actually a Spanish term for "The Crazy Chicken."

There are over 40 branches of El Pollo Loco in Mexico.
Their menu is consisted of the typical Mexican household. They serve Family Chicken Meals that have various piece counts of chicken per order. (8-pc, 10-pc, 12-pc, 16-pc) Their chicken are fire-grilled and are flavored with Mexican spices. These set meals come with sides, tortillas, and salsa.
Salad is also a staple in Mexico. El Pollo Loco serves the Southwest Bacon Salad, Mango Avocado Salad, Pollo Bowl, Ultimate Double Bowl, Mexican Cobb Salad, Double Tostada Salad, Tostada Salad, and the Classic Salad.
Burritos are also very famous in the Mexican cuisine. This is very famous especially to those who want to take a break from burgers and sandwiches. El Pollo Loco serves a variety of burritos depending on the customer. They sell Avocado, Spicy Chipotle, Poblano Avocado, Ranchero, and the Classic Chicken burritos.
Related Other Restaurant Menu and Reviews Chipotle Mexican Grill Menu
Quesadillas is a must-try Mexican food. It is similar to a burrito but it is flat and has lesser stuffing. El Pollo Loco also serves the Avocado, Bacon & Guacamole, Avocado Tacos, and the Ultimate Double Bowl quesadillas.
Sides are very important to add along with the mentioned Mexican goodies. Mexican sides served at El Pollo Loco include Rice, Black Beans, Pinto Beans, Corn, Broccoli, Macaroni and Cheese, Mashed Potatoes and Gravy, Loco Side Salad, and Coleslaw.
To cleanse the pallet after a Mexican meal, El Pollo Loco also serves these desserts: Tres Leches Cake, Chocolate Chip Brownie, Churros, and the Mini Cheesecake Burrito.
Website of El Pollo Loco restaurant