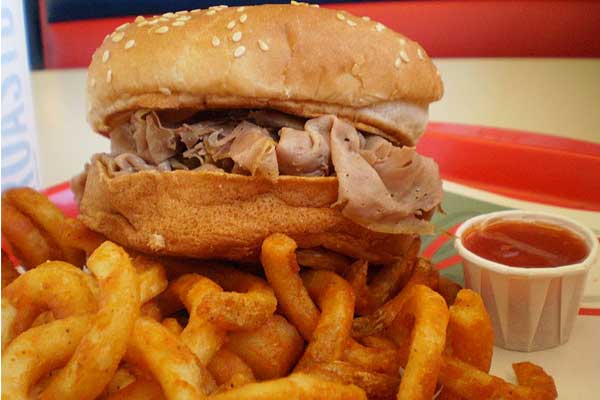 Image source: wikipedia.org
Arby's Restaurant is a fast-service sandwich chain in the United States of America which was ranked second largest in the country having more than 3,400 chains as of today.
956 of these are owned by the company itself while the rest is already franchised to four other countries outside the United States including Qatar, Turkey, Canada, and the United Arab Emirates.

Sandwich is one of the most eaten types of food in the whole world with the mixing of bread and meat – a perfect energy food for people on the go. Arby's is famous for selling top-of-the-line burgers and sandwiches of different meats.
Their beef variants include the Angus Steak, Corned Beef, and the Roast Beef. Their ham variants include Pepper Bacon and the Brown Sugar Bacon. They also serve burger with turkey and chicken meats.
Related Other Restaurant Menu and Reviews Bob Evans Menu
Arby's also serve salad for the vegan and people on diet. They serve the famous Crispy Chicken Farmhouse Salad, the Road Turkey Farmhouse Salad, and the Chopped Side Salad.
Eating a sandwich is always satisfying especially with a side to seal the full stomach. They serve sides including Curly Fries, Mozzarella Sticks, Jalapeno Bites, Steakhouse Onion Rings, Potato Cakes, Chopped Side Salad, and the Garlic Parmesan Housemade Chips which is available only in a limited time.
After a heavy meal, a drink must always be on hand. Arby's serve these drinks: Boylan Black Cherry Soda, Boylan Crème Soda, Boylan Ginger Ale, Chocolate Shake, Jamocha Shake, Vanilla Shake, Brewed Iced Tea, Brisk No Calorie Green Tea Peach, Diet Pepsi, Dr. Pepper, Mountain Dew, Bottled Water, and Pepsi.
Desserts are also available at Arby's. They include Apple Turnover, Cherry Turnover, Chocolate Turnover, and the Chocolate Molten Lava Cake.
Arby's is also offering food for the little kids. They serve then in smaller sizes. Arby's have the following for kids: Junior Turkey & Cheese Sandwich, Junior Roast Beef Sandwich, Prime-Cut Chicken Tenders, and many more.
Website of Arby's restaurant