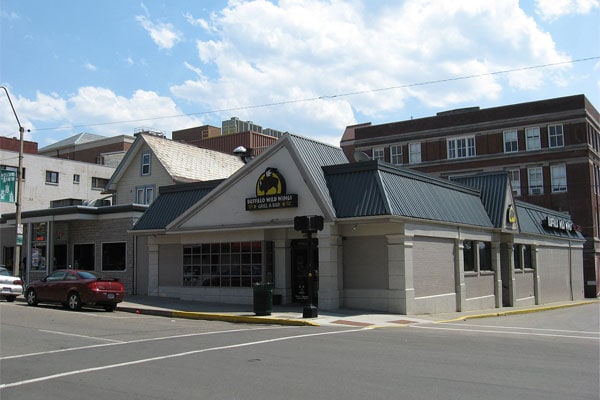 Buffalo Wild Wings is a restaurant and sports bar franchise that originated from the United States of America and is now franchised in Mexico, Canada, and the Philippines. They primarily sell chicken wings and its sauces.
The restaurant was founded by Scott Lowery and Jim Disbrow in 1982. The idea of the whole chain started when the two founders thought of opening a restaurant in one weekend where Disbrow came to Kent State University to judge a figure skating contest in 1980.
Their first restaurant opened in Columbus, Ohio and in Westerville, Ohio, one year after. The first name of Buffalo Wild Wings was actually Buffalo Wild Wings & Weck and was known for the abbreviation, "BW-3". Another name change happened in 1998 and back then the restaurant was called Buffalo Wild Wings Grill & Bar. 1990 was the year when Buffalo Wild Wings started to franchise.
The success of the restaurant chain has reached several locations around the globe. Matter-of-factly, Buffalo Wild Wings already have 1070 branches across the whole US as of February 2015. 485 of these are owned directly by the company, while to other 585 are franchises.
Related Other Restaurant Menu and Reviews El Pollo Loco Menu
Another casual name of Buffalo Wild Wings used by Americans is B-Dubs. It was in 2010 when the company expanded and reached Canada. In 2012, Buffalo Wild Wings garnered a total asset amount of $495 million. Their menu have several categories including Sharables & Sides, Savory Salads, Thin Crust Flatbreads, Kids' Meals, Boneless Wings, Hand-Spun Wings, Traditional Wings, Tempting Tenders & Popcorn Shrimp, Wraps & Buffalitos, Burgers & Satisfying Sandwiches, and You-Deserve-It Desserts.
This restaurant is basically serving finger foods served together with cold beer. But they also have whole meals for lunch or dinner, and other quick treats. Currently, the Chief Executive Officer of the company is Sally Smith.
Website of Buffalo Wild Wings restaurant