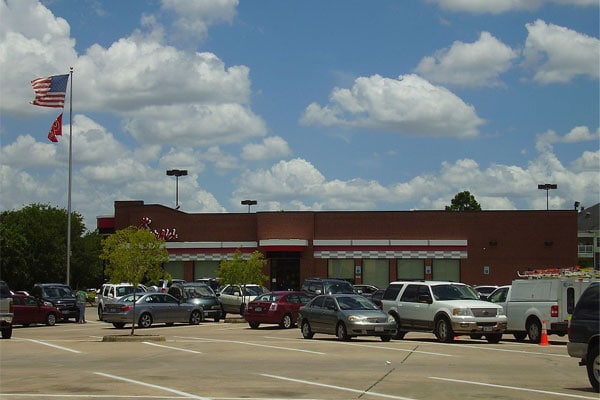 image source: wikimidia.org
Chick-fil-A is a chain of fast food restaurants from USA currently based in College Park, Georgia. They specialize mainly on chicken sandwiches. It was founded by S. Truett Cathy in May 1946 which began as Dwarf Grill.
Currently Chick-fil-A already has 2000 branches inside the United States. The Dwarf Grill first opened in Hapeville, Georgia and was near the manufacturing plant of the Ford Motor Company. The Dwarf Grill was a hit and ran for 15 years until the Cathy discovered a new pressure-fryer that cooks chicken sandwich as fast as cooking a hamburger.
Right then and there, Cathy registered trademark for the name "Chick-fil-A" and made the famous slogan "We Didn't Invent the Chicken, Just the Chicken Sandwich". This then hailed chicken sandwich as their flagship food item.
Related Other Restaurant Menu and Reviews Captain D's Menu
The first branch of Chick-fil-A launched in 1967 inside the Greenbriar Mall in Atlanta. It became a hit to the people around the suburbs so they opened new branches between 1970 to 1980. They only focused on mall food courts during this time until they opened a freestanding branch on North Druid Hills Road in 1986.
They expanded throughout the whole United States until they opened a 5000-square foot branch in Manhattan. To date, this is already their biggest branch in terms of lot size.
Their menu consists of breakfast, entrees, salads, sides, kid's meals, treats, drinks, and various sauces and dressings. Their famous chicken sandwich costs $3.65. Their branches are open from Mondays to Saturdays, 6:30AM to 10:00PM. They are closed on Sundays.
Other Chick-fil-A Resources:
Chick-fil-A Official Menu
Chick-fil-A on Wikipedia
Chick-fil-A on Linkedin
Chick-fil-A on Youtube
Chick-fil-A on Twitter
Chick-fil-A on Facebook
Chick-fil-A on Instagram