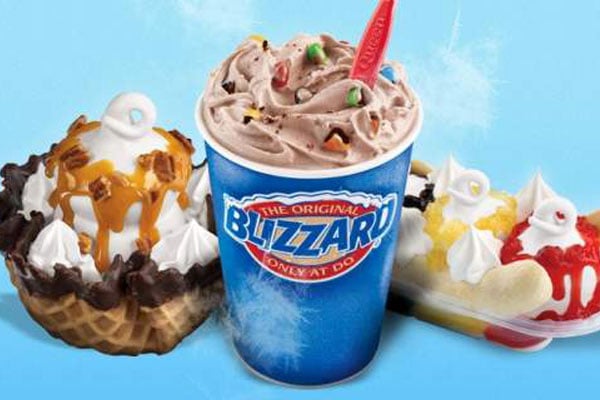 Dairy Queen or often known as DQ is an ice cream and fast food restaurant. It first started in Illinois and now has 6,400 stores in 27 countries all around the world. The largest branch is located at its first store in Illinois and the busiest is at Maryland. When compared to all branches around the world, the one in Saudi Arabia is the biggest.

Related Other Restaurant Menu and Reviews Arby's Menu
The menu of Dairy Queen rotates around soft-serve ice cream to lunches and sandwiches. Their $5 buck lunches include the Crispy Chicken Wraps Lunch, the 3-PC Chicken Strip Lunch, the Flamethrower Cheeseburger Lunch, and the Deluxe Cheeseburger Lunch.
Dairy Queen also offer combos that can be bought in solo or with fried and drinks. Their GrillBurgers include the Bacon Cheese, Flamethrower, Cheese, and the Mushroom Swiss.
They also have Artisan-style sandwiches which include Chicken Bacon Ranch, Chicken Mozzarella, and the Turkey BLT. They also serve chicken sandwiches including the Crispy Chicken Sandwich, and the Grilled Chicken Sandwich.
Top favorites on the sandwich corner include the Original Double Cheeseburger, Cheeseburger, and the Chili Cheese Dog.
Dairy Queen also serves the Chicken Strip Basket which includes nuggets with sides. Snack Melts are also available and they include the Buffalo Chicken Snack Melt, the Chicken BBQ Snack Melt, and the Chicken Quesadilla Snack Melt.
Salads are also sold in Dairy Queen. They include Chicken Garden Greens, Chicken BLT, and the Side Salad.
For their ice cream, they sell what they call Blizzard treats. The Classic Creations include the Oreo Cookies Blizzard Treat, Chocolate Chip Cookie Dough Blizzard Treat, Strawberry Cheesecake Blizzard Treat, Chocolate Xtreme Blizzard Treat, Banana Split Blizzard Treat, and the Turtle Pecan Cluster Blizzard Treat.
Dairy Queen also offers hot desserts like the Triple Chocolate Brownie, Apple Tart, and the Fudge Studded Chocolate Chip Cookie.
Website of Dairy Queen restaurant