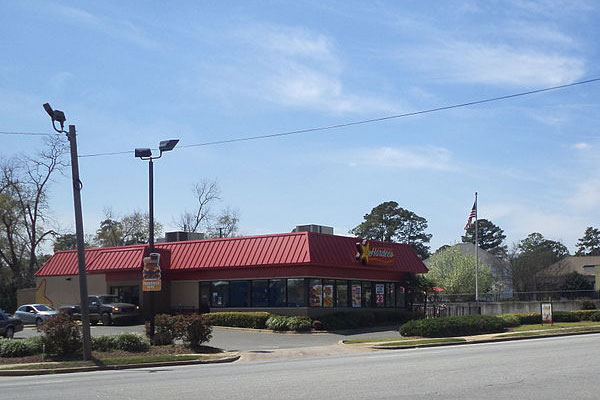 Image source: wikipedia.org
Hardee's Food Systems, Inc. or widely known as Hardee's is a fast-food chain based in the United States of America. It is operated by CKE Restaurants Holdings, Inc. and is located in the Midwestern and Southern parts of the US.
Hardee's was founded by Wilber Hardee, an enthusiast who started in the restaurant business in the last quarter of 1960 in North Carolina. Success hit his restaurant hard and one year later, he decided to open a new branch alongside meeting with Leonard Rawls and James Gardner.
Hardee's menu in 1964 was quite different of what it is today – especially when it comes to price. They used to sell 15-cent hamburgers, 20-cent cheeseburgers, 10-cent fries, 15-cent apple turnovers, 12-cent milk, 10-cent coffee, 15-cent sodas, and 20-cent milk shakes.
When the 1960s ended, Hardee's already had 200 restaurants around Southwestern and Midwest US. They also expanded some branches and reached Germany. When the 1970s started, Hardee's purchased Sandy's and converted them into Hardee's as well. It was in this time when Hardee's reached the peak of two of their key sandwiches, the Big Deluxe and the Big Twin. The demand was so high during this time that it carried the profit of the stores.
Related Other Restaurant Menu and Reviews Joe's Crab Shack Review
When the 1970s ended, Hardee's purchased Dee's Drive-In, a burger chain in Utah.
Currently, Hardee's sells burger meals starting from $4 up to $11. Some of them include the Frisco Thickburger, Bacon Cheese Thickburger, Tex Mex Thickburger, Charboiled Chicken Club, and a lot more. They also sell chicken tenders which are all hand-breaded and are sold in 3-pc, 5-pc, 10-pc, 15-pc, and 20-pc variants.
They also sell value meals which include burgers, salad, low carb meal, apple turnover, and cookie. Their sides include fries, crispy curls, onion rings, and jalapeno poppers. They also sell desserts and drinks that include Colombian coffee, milk, ice cream shakes, and soda.
Hardee's is also popular with their breakfast meals including hash rounds, sandwiches, biscuits, breakfast platters, and a lot more.
Website of Hardee's restaurant