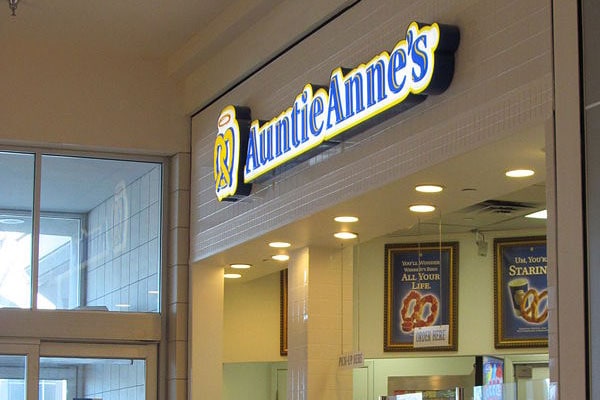 Auntie Anne's is a fast-food chain based in Lancaster, Pennsylvania, primarily serving pretzels. The chain was founded by married couple Anne Beiler and Jonas Beiler in 1988. Aside from selling pretzels, they also have a wide variety of dips and drinks.
Currently, Auntie Anne's already have 1,500 different location worldwide and are located in outlets, malls, Walmart's, and other public places like airports, amusement parks, travel plazas, universities, and military bases.
It all begin when Anne and her husband started selling pretzels in a market stand in Pennsylvania. Since it was a crowd favorite back then, the couple decided to put up a franchise at the Saturday Market in Harrisburg, Pennsylvania. In 1995, Auntie Anne's opened their first ever international franchise store in Jakarta, Indonesia.
Related Other Restaurant Menu and Reviews Buffalo Wild Wings Menu
Up until today, Auntie Anne's is still operating. In fact, the company have already donated more than $4.5 million to children's hospitals in the United States under the foundation Children's Miracle Network. They have also been supporting the Alex's Lemonade Stand Foundation, a pediatric cancer assistance.
Auntie Anne's menu have a wide variety of pretzels. Under the Savoury Pretzels include Original Pretzel, Jalapeno Pretzel, Sesame Pretzel, Garlic Pretzel, and the Original Pretzel Stix.
Under their Meat Pretzels are Pretzel Dog, Cheesy Pretzel Dog, Pepperoni Pretzel, and Jalapeno Cheesy Pretzel Dog.
They also serve sweet pretzels including Cinnamon Sugar Pretzel, Almond Pretzel, Cinnamon Sugar Stix, and the Wind Upz.
For their dips, they serve BBQ, Honey Mustard, Cheese, Caramel, and Chocolate. Their drinks include bottled water, Coca-Cola products, old-fashioned lemonade and dutch ice.
Website of Auntie Anne's restaurant