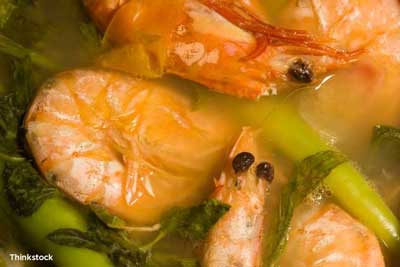 If you live in the Philippines, you'd notice this small, yet amusing, detail. It's probably a must in almost any Pinoy restaurant, but these menu components sure shouts Pinoy in every little way. So if you're eating in a posh establishment, and notice these parts in the Menu, then make a smile! You're eating Pinoy cuisine. Let's check out some of the typical components of a meal, that almost every Pinoy sees it as:
Sabaw…
…means soup. No matter where you eat in the Philippines, chances are, people would always ask or order for soup. As common appetizers to the full meal, soup helps build up an appetite.
It may be as simple as something hot, with a few noodles here and there; or as grand as a seafood hotpot. Whether it may be, no meal – or menu, speaking restaurant talk – will be complete without a Sabaw dish.
Gulay…
…means vegetables. Funny as it sounds, but almost every single kid, regardless of culture or nation, always has their parents telling them to eat their veggies. With Filipino, it's a must to complete your meal. Choices in this category may be the tossed salads, or the famous Chop Suey, a mixed vegetable dish that can very well serve as a main dish.
Related Other Filipino Delicacy 3 dining spot in Makati for couples
Ulam…
…roughly means meal. This can be subdivided into two, karne (meat) or isda (fish). As the main course, the ulam has to be filling. Pinoys normally go for flavorful dishes, from fried fishes to grilled delicacies.
Kanin…
…means rice. Rice is the staple food in the Philippines. It would just be wrong not having this dish. Rice can actually be cooked several ways, making it a delight to match in with almost any sort of cuisine.
Enterprising food establishments actually offer several varieties of rice in their menus – from plain steamed ones, to those mixed in with various ingredients, such as fish and pork. There's even rice deserts and pastries, to fit anyone's taste buds!
Palamig…
…means desert. It's a cool-off, in order to fully enjoy a typical Pinoy menu. A famous choice for this category is the Halo-Halo, a cool and refreshing drink of crushed ice, ice cream and several other sweet ingredients. Cakes are also in order, for all the Pinoy sweet-tooth's out there.
Though not commonly shown or written in Filipino, these categories can actually be seen in almost any local food establishment. It was also even noticed that when Filipino families dine out, that they'd order something from each category, to get the full and best experience of eating out. It has also got to do with culture – the Philippines is a melting pot of different cultures and practices. There's no way to experience the unique culture in just one dish! So if you'd want to enjoy the Philippines through the gastronomic highway, try asking food by using the typical Pinoy menu components. Hope you have a great meal!
Visit Related Topic