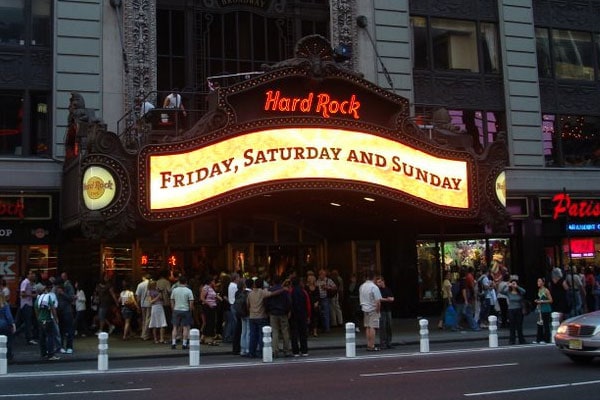 Image source: wikipedia.org
Hard Rock Café International, Inc. is a corporation of theme restaurants founded by Isaac Tigrett and Peter Mortonin London in 1971. They are known for having classic 90's interior covered with rock and roll memorabilia. It is currently owned by the Seminole Tribe of Florida and is headquartered in Orlando, Florida.
As of the last quarter of 2015, they already have 191 branches in over 59 countries worldwide. These branches include 157 cafes, 22 hotels, and 11 casinos.
Hard Rock Café's first branch was opened in Piccadilly, London in June 14, 1971. This branch was owned by two young Americans Isaac Tigrett and Peter Morton. It has an eclectic ambiance inside but soon after, they already added memorabilia to it.
The expansion began in 1982 when it opened new branches in Toronto, Los Angeles, San Francisco, Chicago, Paris, and Berlin. The branches in the United States were placed in varying location. Some were built in large cities while others were placed in small, tourist-driven locations.
These US locations are actually not franchises but corporate owned and operated.
Related Other Restaurant Menu and Reviews In-N-Out Burger review
Hard Rock Café is well known for their menu which includes a variety of divisions like Starters, Salads, Entrees, Smokehouse, Smokehouse Sandwiches, Burgers, Sandwiches, Desserts, and Kid's Meals.
Their starters include Jumbo Combo, Spinach Artichoke Dip, Nachos, Chicken Wings, Tupelo Chicken Tenders, Potato Skins, and many more. Their salads start with Grilled Chicken Caesar Salad, Grilled Chicken Arugula Salad, Cobb Salad, Grilled Chicken Chop Salad, Haystack Chicken, Salad, and many more.
Their entrees include Famous Fajitas, New York Strip Steak, Twisted Mac, Chicken and Cheese, and Grilled Chicken Marsala. Their smokehouses dishes include Hickory-Smoked Barbeque Combo, Hickory Smoked Ribs, and Barbeque Chicken.
Hard Rock Café also serves burgers and sandwiches. They serve The Big Cheeseburger, Fiesta Burger, Veggie Leggie, Local Legendary, Classic Club Sandwich, Lomo Sandwich, Fresh Vegetable Sandwich, and a lot more.
To cleanse the palette, they also serve desserts including thick shakes, fresh apple cobbler, Oreo Cheesecake, and their very own HRC Ice Cream.
Website of Hard Rock Cafe Restaurant