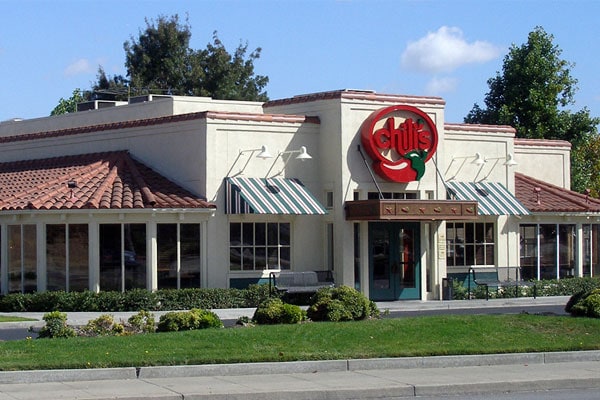 Image source: wikimedia.org
Are you up for an American gastronomical experience like no other? Perhaps you want something filling, something truly spectacular that you can be sure you'll be coming back for more? Well, then, look no further – Chili's is definitely the best place to satisfy your cravings for delicious and exciting American cuisine!
A Snapshot on Chili's History
Conceptualized and founded by Larry Levine in 1975, Chili's originally was supposed to be an informal yet full-service dining restaurant that served different types of hamburgers at an affordable or reasonable price. Levine's original concept did prove to be a success, with 28 Chilis locations spread all throughout the Texas region.
Considering the location, a Southwest décor was implemented in the restaurants. Additionally, the first Chili's restaurant, which was originally a post office on Greenville Ave. (found in the Vickery Meadows area, Dallas), was converted into a hip and popular diner – talk about innovation!
But let's discuss more about the food – after all, this is what makes Chili's great! Even throughout all these years, Chili's has constantly pushed the envelope in crafting and cooking great dishes for customers. And the even more impressive factor in this is that this restaurant has still managed to retain the honest and true-to-good quality of what makes its food awesome, by retaining that authentic Tex-Mex style cuisine!
Chili's Restaurant Menu
To give you an idea of what Chili's has to offer (and, of course, to whet your appetite), we've created a summary of what are the typical dishes served in this restaurant (take note that this isn't a complete list – menu differs per branch, and we'd like to just give you an idea! Best of course to savor the best of these dishes by actually dropping by a Chili's branch to experience the gastronomic journey!):
Appetizers
Great choices to start your Chili's feast!
---
Loaded Boneless Wings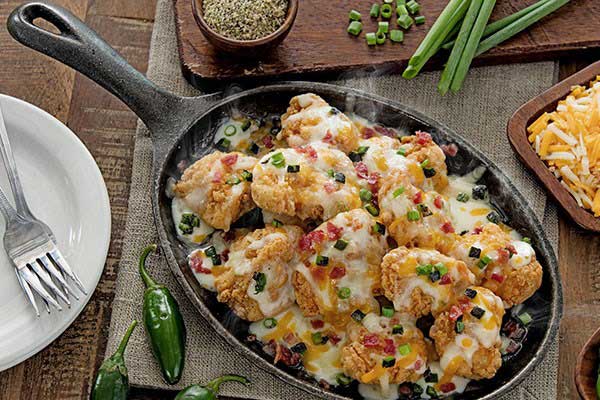 Image Source: chilis.com
Yummy and cheesy chicken wings! This dish comes with a special house-made ranch sauce.
More About Loaded Boneless Wings on chilis.com
---
Southwestern Eggrolls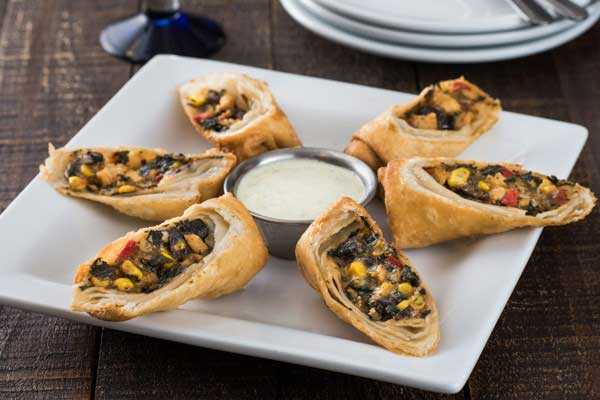 Image Source: chilis.com
A great reinvention when it comes to the humble eggrolls. Packed with chicken, corn, black beans, jalapeño Jack cheese, spinach, red peppers, and wrapped in crispy flour tortillas, this wonderful appetizer also comes with special avocado ranch.
More About Southwestern Eggrolls on chilis.com
---
California Grilled Chicken Flatbread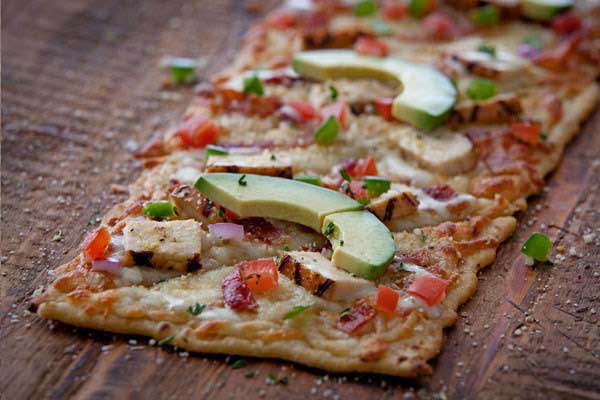 Image Source: chilis.com
Some bread to begin with? Make sure to go for this appetizer. This flatbread is a distinct flavor combination of chicken, bacon, avocado, Jack cheese, mozzarella, garlic aioli, cilantro, pico, and of course, the special cilantro-ranch pesto.
Related Other Restaurant Menu and Reviews Portillo's Review
---
Classic Nachos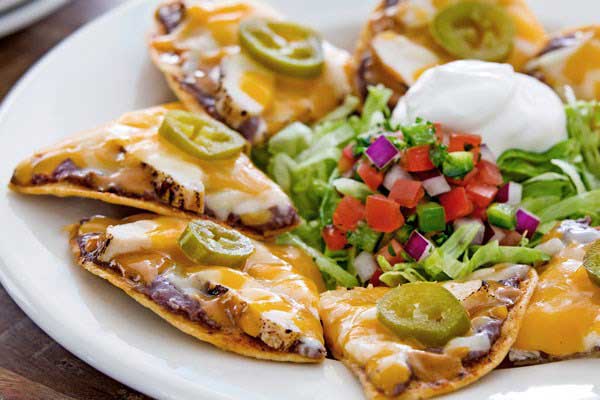 Image Source: chilis.com
With a choice of either Fajita Chicken or Fajita Beef, this heavy appetizer is a pleasurable dish to dig into! Chili's Classic Nachos are served with pico and sour cream.
More About Classic Nachos on chilis.com
---
Texas Cheese Fries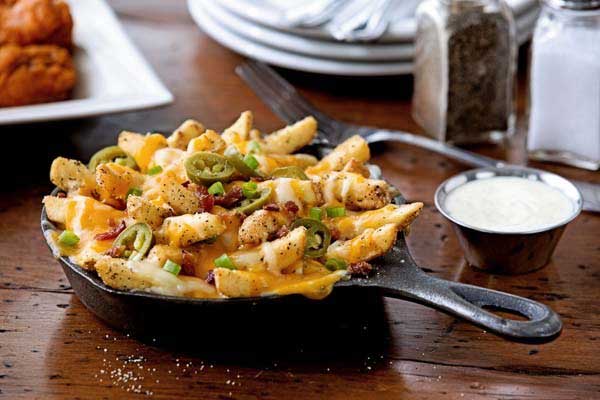 Image Source: chilis.com
Oh, joy! Served with house-made ranch, these yummy fries come with bacon, green onions, jalapeños, and lots of shredded cheese! Comes in half and full orders if you just can't get enough!
More About Texas Cheese Fries on chilis.com
---
Fresh Guacamole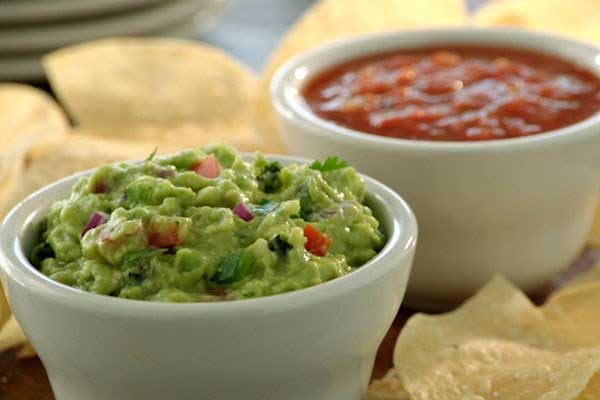 Image Source: chilis.com
Up for something fresh and tasty? This appetizer is made daily, assuring customers that they're getting fresh avocados, tomatoes, cilantro, red onions, and jalapenos! Comes with salsa and warm tostada chips!
More About Fresh Guacamole on chilis.com
Bigger Big Mouth Burgers
One of the best offerings that Chili's is proud to present!
---
Ultimate Bacon Burger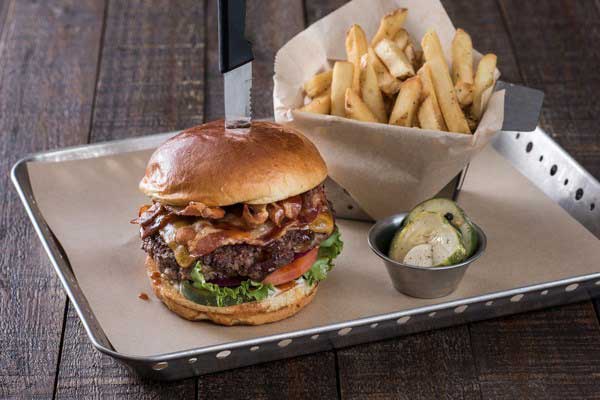 Image Source: chilis.com
Oh, what a glorious delight! Bacon makes everything better, and Chili's capitalizes on this idea.
---
Sunrise Burger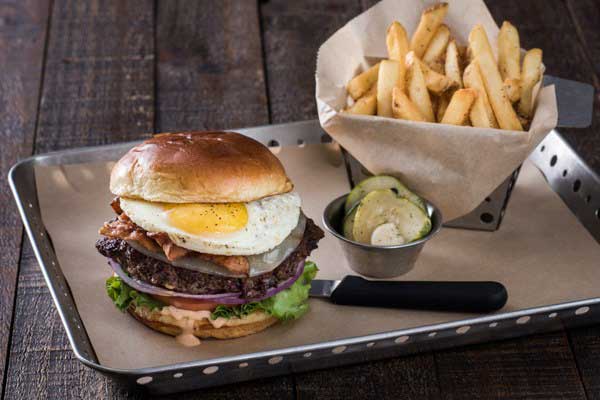 Image Source: chilis.com
Top of the morning, and the best way to start the day is with a cage-free fried egg in a burger!
---
Guacamole Burger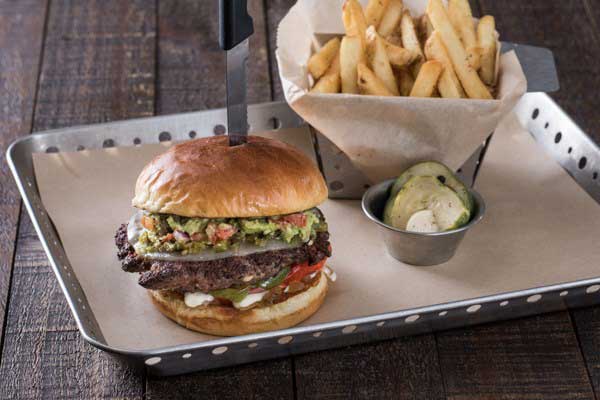 Image Source: chilis.com
Who would have known that guacamole would work best in a burger?
Ribs and Steaks
Heavy and filling dishes to satisfy your cravings!
---
6 oz. Classic Sirloin with Grilled Avocado (420 cal)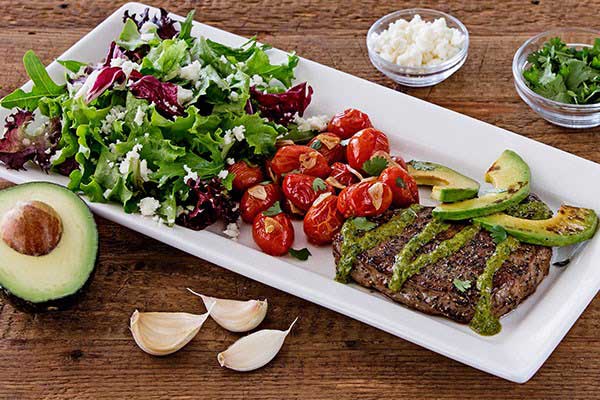 Image Source: chilis.com
A perfect blend of greens and meat. Served with a generous serving of fresco salad.
More About 6 oz. Classic Sirloin with Grilled Avocado (420 cal) on chilis.com
---
Classic Ribeye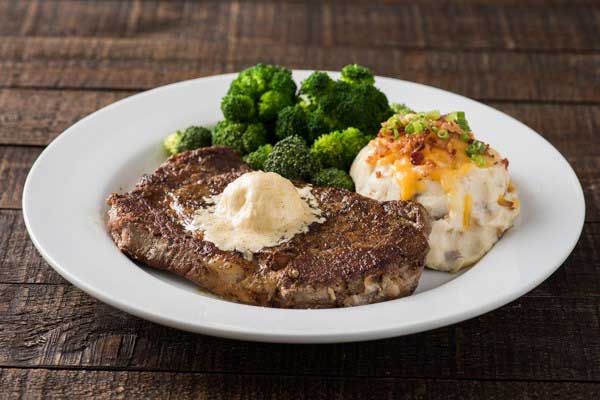 Image Source: chilis.com
A thick-cut marbled steak. A filling meal that also comes with steamed broccoli and mashed potatoes!
More About Classic Ribeye on chilis.com
Fajitas and Enchiladas
Massive – these dishes are now served with 48% more steak and chicken!
---
Chicken Enchiladas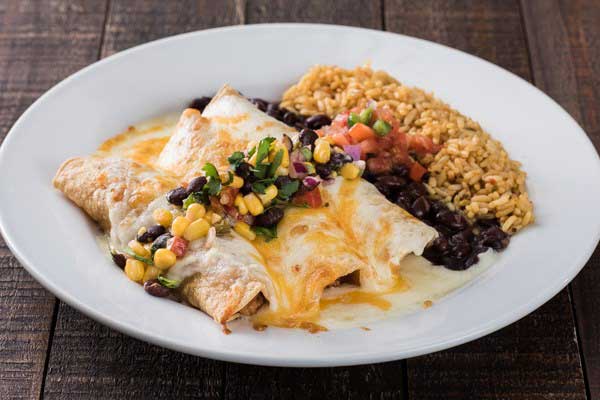 Image Source: chilis.com
Three cheesy large enchiladas in sour cream sauce, cilantro, corn, and black bean salsa. Also comes with black beans and Mexican rice!
Black Bean and Veggie Fajitas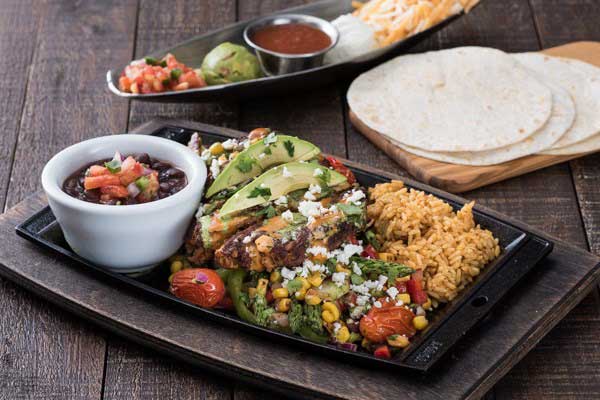 Image Source: chilis.com
Vegetarians will surely delight with this offering. Made fresh with asparagus, tomatoes, corn, black bean salsa, black bean patty, avocado, and queso fresco. Also, this dish is drizzled with a spicy chile-lime sauce – just perfect for an exciting feast!
More About Black Bean and Veggie Fajitas on chilis.com
Sandwiches
All sandwiches come with a generous serving of fries!
---
Bacon Chicken Ranch Sandwich
A crispy chicken sandwich! Comes with spicy Buffalo sauce and house-made ranch smothered on a brioche bun!
---
California Turkey Club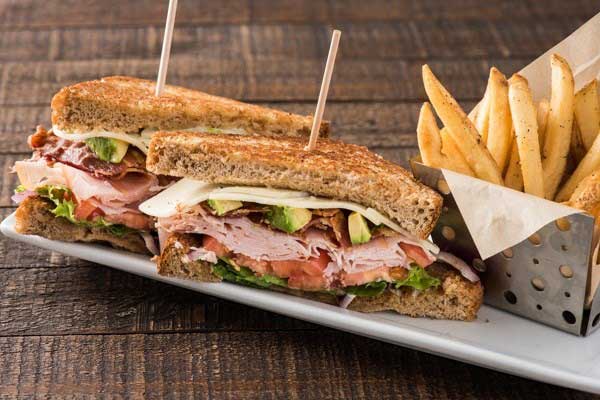 Image Source: chilis.com
Considered a light meal (but, in reality, it's really filling!), this sandwich is a flavorful explosion of avocado, tomato, red onion, lettuce, provolone, among others, on wheat Texas toast. Comes as well with cilantro-pesto mayo!
Like we said, the best way to get to know the dishes is to do it up close and indulging in the taste experience! Visit the nearest Chili's branch today!
More About California Turkey Club on chilis.com
Chili's Specials
We'd also like to point out several specials found in Chili's – you just may want to try these out too!
---
Smokehouse Combos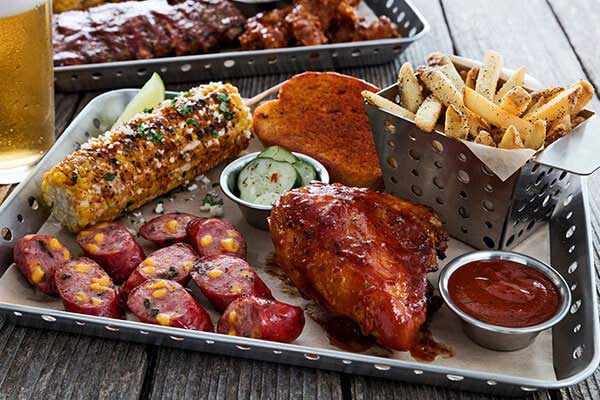 Image Source: chilis.com
The ultimate Tex-Mex taste experience. Comes in the "normal" and ultimate variants, this is a solid platter of the best staples from this type of cuisine.
Guiltless Grill
We're considering these choices as a special – health aficionados deserve only the best. And even Chili's knows that, by offering a delectable variation of lighter menu choices (without losing out on the taste quality, of course!)
---
Ancho Salmon (590 cal)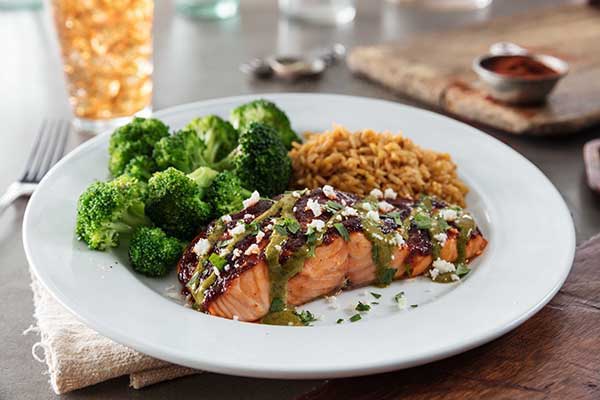 Image Source: chilis.com
Seafood delight! Yummy and served with steamed broccoli and Mexican rice!
More About Ancho Salmon (590 cal) on chilis.com
---
Mango-Chile Chicken (460 cal)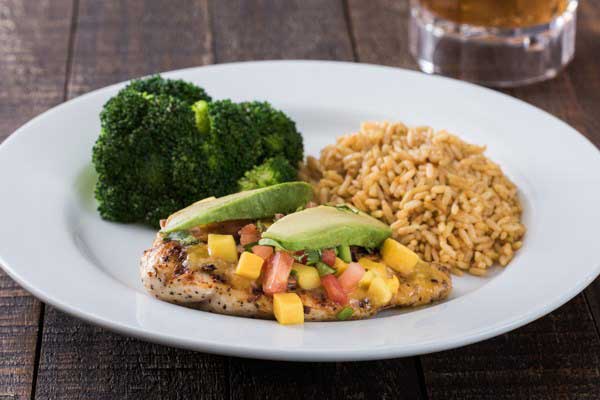 Image Source: chilis.com
Image source: chilis.com
A touch of mango just doesn't make a dish light – flavor is accentuated as well. Combined with chile spices, and you're bound to have a light but satisfying meal!
More About Mango-Chile Chicken (460 cal) on chilis.com
Here is the Complete List of All Chili's Menus Prices:
| | |
| --- | --- |
| Party Platter Add Ons | |
| Party Platter Chocolate Chip Cookies | $30 |
| Party Platter Mini-Molten Cakes | $30 |
| Party Platter Dessert Trio | $35 |
| Party Platter Dessert Combo | $30 |
| Party Platter Side - Large Cadillac Style (Mexican rice & Beans) | $11.99 |
| Party Platter Side - Small Cadillac Style (Mexican rice & Beans) | $5.99 |
| Party Platter Side - Mexican Rice | $8.99 |
| Party Platter Side - Roasted Asparagus | $13.99 |
| Party Platter Side - Roasted Street Corn | $13.99 |
| Party Platter Side - Loaded Mash Potatoes | $8.99 |
| Party Platter Side - Steamed Broccoli | $8.99 |
| Party Platter Side - Sweet Corn on the Cob | $8.99 |
| Party Platter Side - Black Beans | $8.99 |
| Party Platter Side - Colesla | $8.99 |
| Party Platter Classic Side & Small House Salad | $10 |
| Party Platter Signature Side & Small House Salad | $13 |
| Party Platter Classic Side & Small Caesar Salad | $10 |
| Party Platter Signature Side & Small Caesar Salad | $13 |
| Gallon of Iced Tea | $6.09 |
| Gallon of Blackberry Iced Tea | $6.89 |
| Gallon of Mango Iced Tea | $6.89 |
| Gallon of Strawberry Lemonade | $7.39 |
| Party Platters | |
| Party Platter Triple Dipper™ - Large | $48 |
| Party Platter Big Mouth® Bites - 12 count | $24 |
| Party Platter Big Mouth® Bites - 20 count | $40 |
| Party Platter Chips & Salsa - Large | $7.99 |
| Party Platter Southwestern Eggrolls -12 count | $22 |
| Party Platter Southwestern Eggrolls -24 count | $41 |
| Party Platter Quesadilla Explosion Salad - Large | $32.19 |
| Party Platter Santa Fe Salad - Large | $32.19 |
| Party Platter Southwest Chicken Caesar Salad - Large | $32.19 |
| Party Platter Southwest Shrimp Caesar Salad - Large | $37.19 |
| Party Platter House Salad - Small | $8.99 |
| Party Platter House Salad - Large | $17.19 |
| Party Platter California Turkey Club Toasted Sandwich - Large | $44.79 |
| Party Platter Mix & Match Fajitas - Small | $42.99 |
| Party Platter Mix & Match Fajitas - Large | $81.99 |
| Party Platter Fajita Trio - Small | $47.99 |
| Party Platter Fajita Trio - Large | $86.99 |
| Party Platter Chicken Enchiladas - Small | $28 |
| Party Platter Chicken Enchiladas - Large | $55.69 |
| Party Platter Texas-Size Baby Back Ribs - Small | $29 |
| Party Platter Triple Dipper™ - Large | $56.49 |
| Party Platter Wings - 16 count | $17 |
| Party Platter Wings - 24 count | $25 |
| Party Platter Wings - 48 Count | $50 |
| Party Platter Boneless Wings - 22 count | $17 |
| Party Platter Boneless Wings - 33 count | $25 |
| Party Platter Boneless Wings - 66 Count | $50 |
| Party Platter Chicken Crispers® - 10 count | $15 |
| Party Platter Chicken Crispers® - 15 count | $19 |
| Party Platter Chicken Crispers® - 30 count | $38 |
| Party Platter Custom Combo - Large | $58.49 |
| Shrimp Cajun Pasta Party Platter - Small | $27 |
| Shrimp Cajun Pasta Party Platter - Large | $48.15 |
| Cajun Chicken Pasta Party Platter - Small | $24 |
| Cajun Chicken Pasta Party Platter - Large | $43.15 |
| Party Platter Margarita Grilled Chicken - Large | $45.19 |
| Kids Menu | |
| Pepper Pals® Cheese Burger Bites | $5.65 |
| Pepper Pals® Burger Bites | $5.65 |
| Pepper Pals® Grilled Chicken Bites | $5.65 |
| Pepper Pals® Cheese Quesadilla | $5.25 |
| Pepper Pals® Grilled Cheese Sandwich | $5.25 |
| Pepper Pals® Crispy Crispers® | $5.75 |
| Pepper Pals® Grilled Chicken Dippers | $5.75 |
| Pepper Pals® Cheesy Chicken Pasta | $5.75 |
| Kraft® Macaroni & Cheese | $5.25 |
| Pepper Pals® Cheese Pizza | $5.75 |
| Pepper Pals® Pepperoni Pizza | $5.75 |
| Mini Chocolate Molten | $2.49 |
| Beverages | |
| Coke® | 250 Cal | $2.89 |
| Diet Coke® | 0 Cal | $2.89 |
| Coke Zero® | 0 Cal | $2.89 |
| Sprite® | 250 Cal | $2.89 |
| Dr. Pepper® | 260 Cal | $2.89 |
| Minute Maid® Lemonade | 260 Cal | $2.89 |
| Unsweetened Tea | 5 Cal | $2.89 |
| Strawberry Lemonade | 320 Cal | $3.19 |
| Half Tea | Half Lemonade | 130 Cal | $3.19 |
| Blackberry Iced Tea | 100 Cal | $3.39 |
| Mango Iced Tea | 110 Cal | $3.39 |
| IBC Root beer | 160 Cal | $3.09 |
| Dasani | 0 Cal | $3.09 |
| Orange Juice | $2.60 |
| Cranberry Juice | $2.60 |
| Pineapple Juice | $2.60 |
| Milk | 5-210 Cal | $2.49 |
| Coffee | 0 Cal | $2.49 |
| Gallon of Iced Tea | 40 Cal | $6.39 |
| Gallon of Blackberry Iced Tea | 820 Cal | $7.09 |
| Gallon of Strawberry Lemonade | 1940 Cal | $7.69 |
| Gallon of Mango Iced Tea | 840 Cal | $7.09 |
| Desserts | |
| Molten Chocolate Cake | $7.79 |
| Paradise Pie† | $7.39 |
| Skillet Chocolate Chip Cookie | $7.29 |
| Cheesecake | $6.89 |
| Sides | |
| Sides | 35-820 Cal | $1.99 |
| Dip Options | 10-250 Cal | $0.79 |
| Lunch Specials | |
| Lunch Combo - Double Burger | $8 |
| Lunch Combo - Chili's 1975 Soft Tacos | $8 |
| Lunch Combo - Spicy Shrimp Tacos | $8 |
| Lunch Combo - Bacon Ranch Chicken Quesadillas | $8 |
| Lunch Combo - Boneless Wings | $8 |
| Lunch Combo - Bacon Avocado Grilled Chicken Sandwich | $8 |
| Lunch Combo - California Turkey Club | $8 |
| Lunch Combo - Chipotle Chicken Fresh Mex Bowl | $8 |
| Lunch Chicken Fajitas | $9.19 |
| Chicken & Seafood | |
| Honey-Chipotle Crispers® & Waffles | $11.89 |
| Chicken Enchiladas | $10.59 |
| Mango-Chile Chicken | $12.19 |
| Spicy Shrimp Tacos | $11.79 |
| Margarita Grilled Chicken | $12.29 |
| Ancho Salmon | $15.89 |
| Cajun Chicken Pasta | $12.99 |
| Cajun Shrimp Pasta | $13.99 |
| Chipotle Chicken Fresh Mex Bowl | $11.29 |
| Chipotle Shrimp Fresh Mex Bowl | $11.69 |
| Smokehouse Combos | |
| Smokehouse Combo | $16.49 |
| Ultimate Smokehouse Combo | $18.49 |
| Tacos & Quesadillas | |
| Chili's 1975 Soft Tacos | $9.39 |
| Spicy Shrimp Tacos | $11.79 |
| Ranchero Chicken Tacos | $11.19 |
| Bacon Ranch Chicken Quesadillas | $11.29 |
| Beef Bacon Ranch Quesadillas | $11.69 |
| Guiltless Grill | |
| Ancho Salmon | $15.89 |
| 6 oz. Classic Sirloin* with Grilled Avocado | $12.89 |
| Margarita Grilled Chicken | $12.29 |
| Mango-Chile Chicken | $12.19 |
| Grilled Chicken Salad | $10.99 |
| Chicken Crispers | |
| Original Chicken Crispers | $10.89 |
| Crispy Chicken Crispers | $10.89 |
| Crispy Honey-Chipotle Chicken Crispers | $10.89 |
| Honey-Chipotle Crispers® & Waffles | $11.89 |
| Crispy Buffalo Bleu Crispers | $11.39 |
| Sandwiches | |
| California Turkey Club | $10.19 |
| Buffalo Chicken Ranch Sandwich | $9.99 |
| Bacon Avocado Grilled Chicken Sandwich | $11.19 |
| Salads, Soups & Chili | |
| Boneless Buffalo Chicken Salad | $11.19 |
| Quesadilla Explosion Salad | $11.59 |
| Santa Fe Crispers® Salad | $11.29 |
| Santa Fe Chicken Salad | $11.29 |
| Caribbean Salad with Seared Shrimp | $12.99 |
| Caribbean Salad with Grilled Chicken | $11.29 |
| Southwest Chicken Caesar Salad | $10.69 |
| Southwest Shrimp Caesar Salad | $11.59 |
| Grilled Chicken Salad | $10.99 |
| Soup & House Salad | $7.69 |
| Soup & Caesar Salad | $7.69 |
| Chili & House Salad | $8.39 |
| Chili & Caesar Salad | $8.39 |
| Side Caesar Salad | $4.59 |
| Side House Salad | $4.59 |
| Bowl of the Original Chili | $5.29 |
| Cup of the Original Chili | $3.79 |
| Bowl of Soup | $4.69 |
| Cup of Soup | $3.39 |
| 3 for $10 | |
| 3 for $10 | $10.00 |
| Meal for 2 | |
| Meal for 2 | $25 |
| Fajitas | |
| Black Bean & Veggie Fajitas | $14.79 |
| Mushroom Jack Chicken Fajitas | $15.89 |
| Shrimp Fajitas | $16.79 |
| Steak Fajitas | $16.79 |
| Chicken Fajitas | $14.79 |
| Mix & Match Fajita Trio | $17.99 |
| Mix & Match Fajitas | $16.79 |
| Ribs & Steaks | |
| Original Full Order Ribs | $19.29 |
| Original Half Order Ribs | $12.39 |
| Mix & Match Ribs | $19.29 |
| House BBQ Full Order Ribs | $19.29 |
| House BBQ Half Order Ribs | $12.39 |
| Texas Dry Rub Full Order Ribs | $19.29 |
| Texas Dry Rub Half Order Ribs | $12.39 |
| Honey-Chipotle Full Order Ribs | $19.29 |
| Honey-Chipotle Half Order Ribs | $12.39 |
| Classic Ribeye | $18.79 |
| Classic Sirloin* - 10oz | $17.59 |
| Classic Sirloin* - 6oz | $11.99 |
| 6 oz. Classic Sirloin* with Grilled Avocado | $12.49 |
| Big Mouth Burgers | |
| Big Mouth® Bites | $9.99 |
| Oldtimer | $8.59 |
| Oldtimer® w/Cheese | $9.19 |
| Just Bacon Burger | $10.49 |
| Southern Smokehouse Burger | $11.79 |
| Chili's Chili Burger | $9.99 |
| Alex's Santa Fe Burger* | $10.99 |
| Queso Burger | $9.19 |
| Mushroom Swiss Burger* | $10.19 |
| The Boss Burger | $15.19 |
| Appetizers | |
| Texas Cheese Fries - Half | $5.19 |
| Texas Cheese Fries - Full | $8.59 |
| Crispy Cheddar Bites | $6.69 |
| Fried Pickles | $6.19 |
| Classic Nachos | $8.79 |
| Classic Nachos with Beef | $10.19 |
| Classic Nachos with Chicken | $10.19 |
| Loaded Boneless Wings | $10.19 |
| Bone-in Wings | $10.19 |
| Boneless Wings | $9.99 |
| Awesome Blossom Petals | $6.79 |
| Chips & Salsa | $4.19 |
| Fresh Guacamole | $6.29 |
| White Spinach Queso | $7.69 |
| Skillet Queso | $6.79 |
| Southwestern Eggrolls | $8.79 |
| Triple Dipper | $12.49 |
Other Chili's Restaurant Resources
Chili's Official Menu
Chili's on Wikipedia
Chili's on Facebook
Chili's on Twitter