Here is the complete list of foods and beverages with prices in Pizza Pedrico's menu:
Chorizo and Cheez
– A mouth watering pizza topped with freshly baked chorizo and choice cheese melted in perfection for a delightful treat.
Ham and Cheez – An all-time favorite. packed witht the best sliced ham in town and aged cheez perfectly baked to satisfy your pizza cravings.
Sausage and Cheez
– Loaded with the finest classic Italian sausage bits and choice cheez… A distinct taste you've been looking for.
Cheez and Cheez – A rich layer of multiple cheez varieties blended carefully to bring out its rich color and lavish taste. Perfect for all your cheez lovers out there!
Ham + Sausage and Cheez – Deliciously decked with sliced ham, juicy sausage bits blended to perfection.
Ham + Pineapple and Cheez
– A hearty and delicious mix of choice premium ham squares and luscious pineapple tidbits.
Sausage + Pepperoni and Cheez – Richly loaded with the finest classic italian sausage bits and smoked pepperoni slices.
Great White – White and meaty, delightfully peppery that's greatly spicy!
Red Fox – Sweetly and saucy, fantastically meaty and cheesy!
Cheezy Chums – Twirl over its spicy chorizo bits wrapped over generous cheesy greatness!
Cheese Burger Yummy burger chunks in pizza sauce and cheese enveloped in two soft and chewy pizza crust.
*Menu and Prices as of August 2013 and are subject to change without prior notice.
Related Other Restaurant Menu Pan De Manila pugon bread
Pizza Pedricos Restaurant Random Food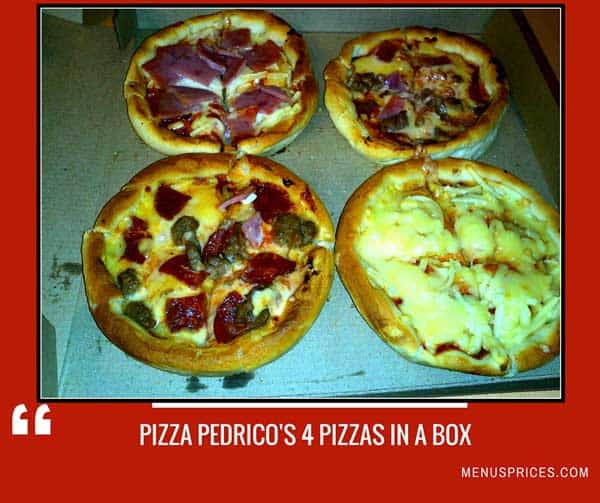 Image Source https://en.wikipedia.org/
Website of Pizza Pedrico's restaurant
See Others Restaurant's Menu