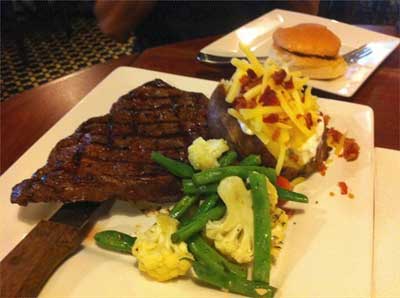 What's not to love about Ruby Tuesday?
What are you looking for in a restaurant? Isn't it the ambiance, the freshness of food, the rich and unique taste, the price, and the customer service? For me, those characteristics are important for me when dining in a restaurant and luckily, I found all of them in one restaurant, in Ruby Tuesday.
Ruby Tuesday menu includes fresh salads, premium sandwiches, appetizing ribs & platters, tender steaks & chickens, and a lot more. It's seriously one of the best American restaurants you could try.
Upon choosing from the Ruby Tuesday menu, I had a hard time picking what food to eat. I wanted to order one dish from every page. Unfortunately, I couldn't afford to eat everything up and fill up my stomach. It was a good thing the waiter was patiently standing beside me and waiting for my order. He also oriented me about the meals they serve. Ruby Tuesday really give good customer service.
Related Other Restaurant Menu and Reviews Introducing The Cracker Barrel Flashback Menu
After a while, I finally decided what to order. For a starter, I chose to get their unlimited salad from their Endless Fresh Garden bar. Every ingredient seemed to be fresh and perfect for my first dish. For the main dish, I decided to get New Orleans Seafood, which is one of their specialties.
It is made up of steamed fish topped with spicy sauteed shrimps and rich Parmesan sauce. This dish is definitely delectable and I felt like I want to order another plate of it. For my dessert, I tried Crannaple Crepes, which is made up of baked apples and cranberries with a touch of caramel sauce and syrup. I was really satisfied with what I ordered. After eating in Ruby Tuesday, I can't stop telling my friends to eat with me the next time I visit. Even Ruby Tuesday menu prices didn't disappoint me because the food was just right for its price.
Visit Related Topic